Trekking Around Manaslu - Part 1
---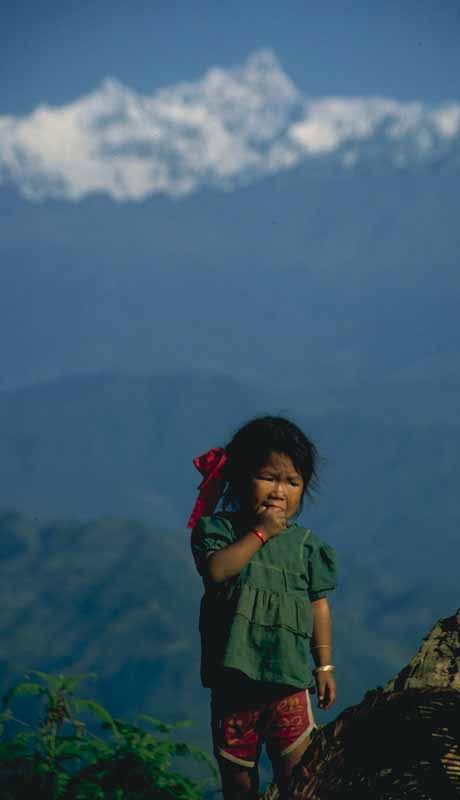 Nepalese child near Gorkha, 800x460 JPEG, 15K
This first trip to Nepal was a trek around Manaslu, the ninth highest peak in the world at 26,757 ft. This trek has become a more "standard" item since I did it in 1992 (though it's still nowhere near the popularity of the treks in the Annapurna or Everest regions). At the time, however, it had just recently been opened up for trekking and much of the route was through areas which had seen few Westerners. (By way of contrast, the last section of the trek joined the popular Annapurna Circuit.)
The three week trek made its way up the Buri Gandaki river valley starting at the town of Gorkha with its famous fortress perched on a hill 1,000 feet above the town. Following the river valley with the usual Nepali up and down combinations, the trekking route wound through the relatively larger towns in the lower river valley with occasional views of high summits from a distance such as those behind the child in the photograph. (The background summit is part of the Manaslu Himal -- probably Himal Chuli -- but Manaslu itself is hidden behind the nearer peaks.)
While the lower towns are interesting culturally and the scenery would be impressive enough in most locations in the world, it is Nepal's high country which has an own irresistable allure. Culturally, this high country is very different from the large cities and the relative lowlands of the lower river valley. For one thing, the religion and culture are more obviously Buddhist, the religion of the Sherpas, Gurungs, and Tamangs as well as the refugees from Tibet who people many of the highland villages. (Nepali religion in general is a complex combination of Hinduism and Buddhism. The official religion is Hindu, but in practice religion is a blend of Hindu and Tantric Buddhist beliefs and deities in various sorts of combinations and blendings.)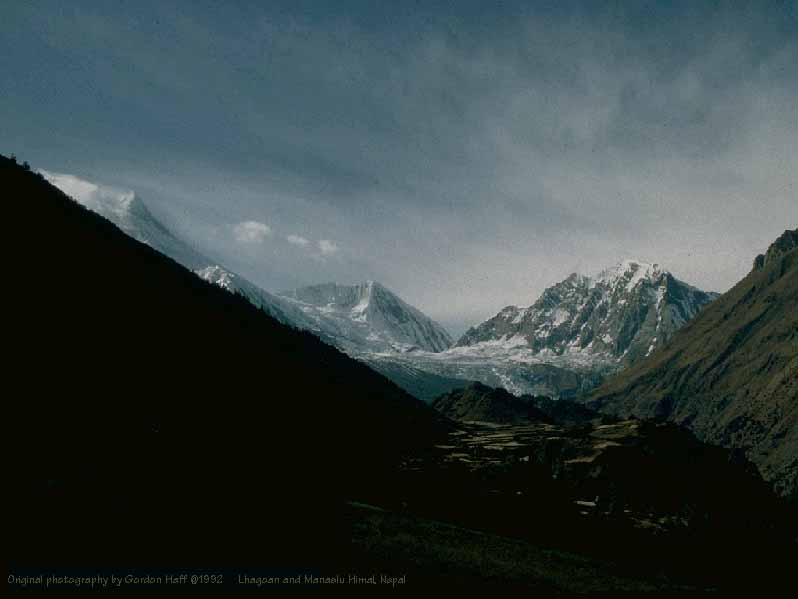 Manaslu from Lhagoan, 800x600 JPEG, 23K
The other difference is that the confines of the deeply cut river valleys open up into vistas shaped by glaciers and the forces driving together the Indian subcontinent and Asia. To date we had seen occasional views of the high peaks such as Himal Chuli from above Ghorka and Shringi Himal from several spots. For the first time at Lhagoan, however, we could clearly see the impressive twin peaks of Manaslu (plus Manaslu North). The Buri Gandaki which we continued to follow was now little more than a mountain torrent compared to the sizable river which it had been further down.
The air became crisp and cold as the mountains block the afternoon sun at this village over 10,000 feet. It was in the forties when we arrived in the late afternoon and we were glad when the porters arrived with our gear such as down jackets. We started to watch carefully for altitude sickness. Beyond this point, our daily altitude gains would be limited and rest days would be scheduled. We did see one trekker coming down on horseback suffering from pulmonary edema, one of the more serious manifestations of altitude sickness.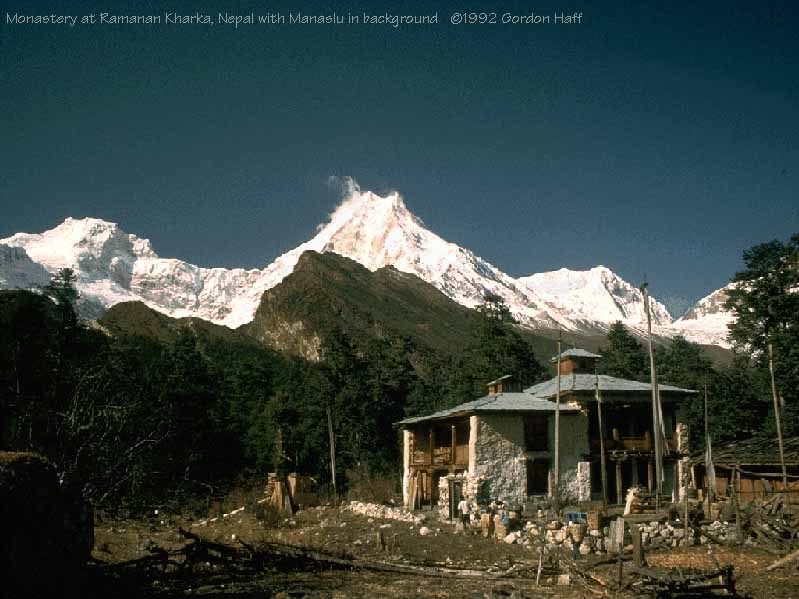 The twin peaks of Manaslu from the monastery at Ramonon Kharka, 800x600 JPEG, 58K
From Lhagona, we continued onwards and upwards to the monastery at Ramonon Kharka, situated in a picture postcard setting with Manaslu forming the backdrop. From the hills above the monastery, we were able to look into almost an ampitheatre surrounded by Manaslu, Nguli Chuli, and a variety of lesser peaks.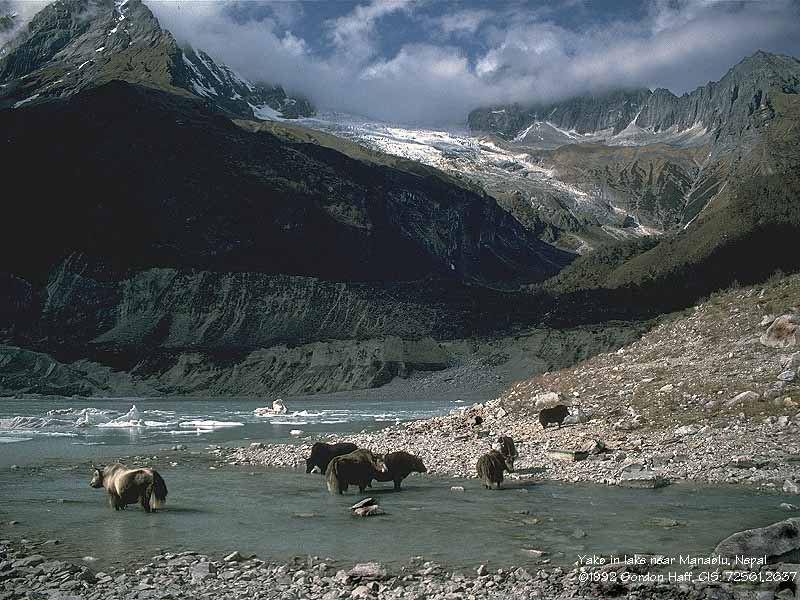 Yaks in high glacial lake below Manaslu, 800x600 JPEG, 92K
From Ramonan Kharka it was a short morning hike through Samaghon to Sama Ghompa and from there a short walk up to the Manaslu Glacier and lake shown in the photograph. A large herd of yaks still in the highlands before being herded to lower pastures for the winter made for a classic Himalayan scene. Perhaps most impressive was the "reproductive activity" taking place standing knee-high in ice cold water. (Not sure why I didn't get a PhotoCD scan made of the appropriate photo for inclusion here; perhaps a modicum of good taste and a desire to maintain a PG rating for this site :-) )
We ended up adding an extra rest day at Sama to allow various colds and altitude acclimitization problems some time to work themselves out of the group. The weather up here was beautifully warm and sunny at midday but cold as the sun sank below the towering surrounding peaks by mid-afternoon. I was glad I had brought a warm sleeping bag as temperatures at night reached freezing.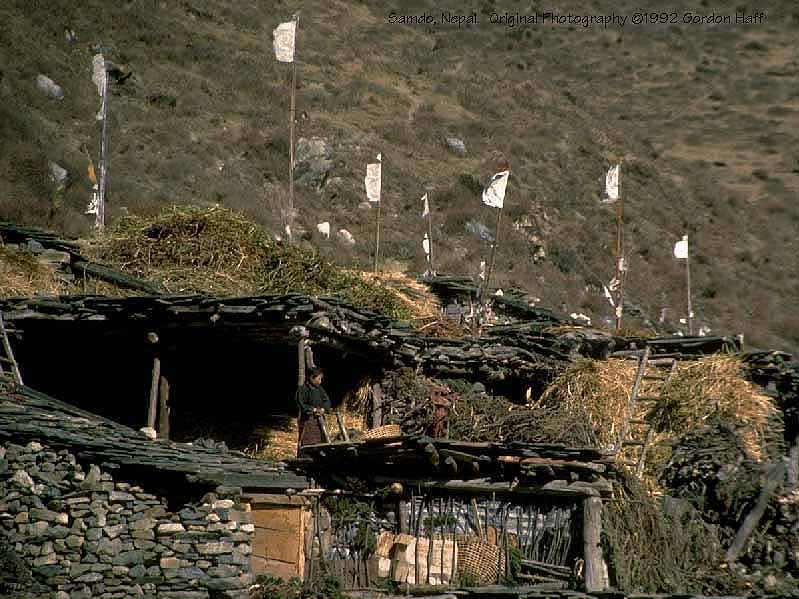 Prayer flags over Samdo, 800x600 JPEG, 78K
The last major stop before a high yak-hearder's hut and the 17,200 foot Larkya La pass was the town of Samdo. The morning walk from Sama continued through the Buri Gandaki river valley, but the river is little more than a mountain stream at this point. Its source is not far from here, somewhere in the glaciers of the Larkya Himal. We camped for two nights at Samdo before setting off for out last high campsite prior to the pass.
Looking from Samdo, the Tibetan border is formed by the ridgeline on an unidentified mountain which rises above the village (about 10 miles away as the crow flies). In this high country, the campsite was windswept, but the scenery impressive and it was comfortable in the mess tent or in the village when we escaped the wind. On our rest day, a few of us hiked towards the Tibetan plateau. The landscape in this direction becomes more and more desolate and much of the rock is the rotten sort which I've also seen in recently glaciated areas in Alaska.
This route, like others leading from Samdo, is an old Tibetan trading route though there is little traffic on it today. Larkya Bazaar itself (which we passed by on our way over the pass) is little more than a few fields although it was a major trading center before China invaded Tibet. We did encounter an old couple from Samagoan on their way to Tibet; it wasn't clear why they were going since trade goods weren't in evidence. "Discussion" seemed to indicate a 10 day round trip. We also encountered, but did not speak with, a couple of traders riding horses and bringing along a half-dozen yaks with packs.

---




Send mail to Gordon Haff.