Nepal City Streets
---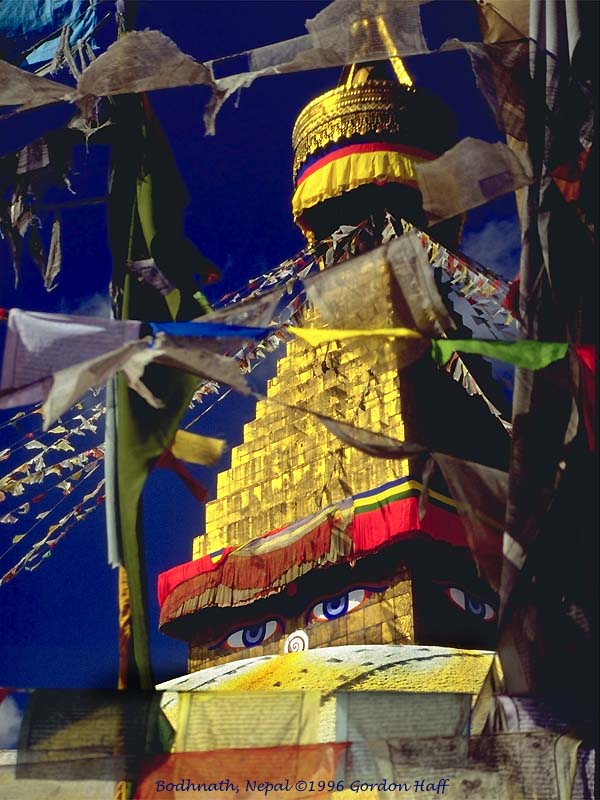 Bodhnath stupa outside Kathmandu, 800x600 JPEG, 90K
Nepal presents a rich and fascinating culture set among the highest peaks in the world. Kathmandu itself is an incredible mix of the modern and the medieval. Old sculptures and temples vie for space with a crush of cars, rickshaws, souvenir stores, food stalls, restaurants, trekking gear stores, and even signs for computer services. The noise, pollution, and general sensory overload can get to be a bit much after a while. A few days in Kathmandu before a trek probably makes one appreciate the mountains that much more.
Personally I find a little Kathmandu to go a long way. Parts of Kathmandu, and most of those parts where Westerners tend to spend time, are largely creations of the tourist, or more specifically the trekking, industry. I've heard Thamel in particular described as a sort of Nepalese Disneyland for visitors with its endless clothing/trekking/carpet/souvenir/etc. stores and restaurants which cater to a sort of Nepalese version of Western food. I don't take quite as extreme a position myself, but recognize that it is a city (and a country) where, for better or worse, tourism is a major industry. And, as in other places, tourism affects what it touches with a sort of Heisenberg Effect.
Besides the city streets, however, Kathmandu along with the towns of Patan and Bhaktapur (which are today all part of the same vaguely defined metropolis) sports an impressive array of temples of both the Hindu and Buddhist faiths. The stupa at Bodhnath is the largest in Nepal and one of the largest in the world. It is the religous center for Nepal's large Buddhist Tibetan population who fled there after China invaded Tibet in 1959. It is thought that the first stupa on this site probably dated back to about 600 A.D. with the current structure being built sometime after the Mongol invasions in the 14th century.

Pigments outside the Hindu temple of Pashupatinath, 640x450 JPEG, 72K
Near Bodhnath is the largest Hindu temple in Nepal: Pashupatinath. Lonely Planet describes it as "one of the most important Shiva temples on the subcontinent and draws numerous devotees from all over India each year... Shiva is the destroyer and creator of the Hindu pantheon and appears in many forms. His 'terrible' forms are probably best known, particularly his appearance in Nepal as the cruel and destructive Bhairabs, but he also has peaceful incarnations including those of Mahadev and Pashupati, the Lord of Beasts."
Pashupatinath lies on the banks of the Bagmati which flows into the Ganges. As at Varanasi on the Ganges, it is a well-used spot for cremations and the burning ghats along the river at the temple are frequently in use.
The pigments shown in the photograph were for sale outside the entrance to this temple. I never did get a terribly clear answer on what exactly all the pigments would be used for in connection with the temple although the Hindu caste markings would seem to be at least one use.

Prayer Flags on the Steps Approaching Swayambhunath, 800x600 JPEG, 55K
Schoolgirl at Swayambhunath, 800x600 JPEG, 79K
Swayambhunath is often called colloquially (by Westerners, at any rate) "the monkey temple" since this ancient stupa is overrun with them. It's perched on a hill west of the Thamel area of Kathmandu and commands an impressive view of the entire valley. (Alas the smog, smoke, and dust which permeate the Kathmandhu skyline make for vistas which are hazier than one might hope for.)
A long flight of steps make their way up to the stupa and an almost overwhelming collection of accompanying shrines, temples, sculptures, and votive site (as well as the omnipresent merchants selling the usual array of prayer wheels, carvings, and postcards).
As with other Buddhist temple sites, the diversity and sheer "clutter" is staggering as a contrast to the huge monolithic cathedrals of Europe.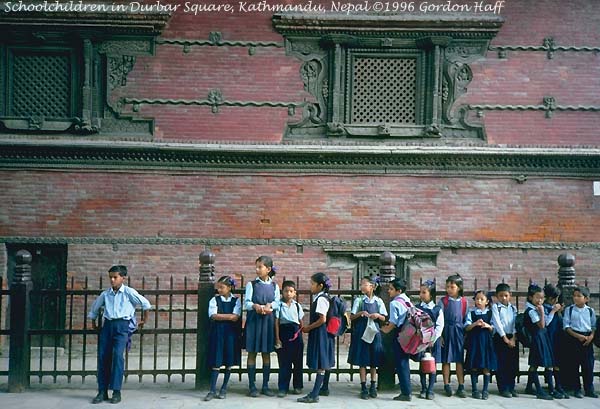 Schoolchildren in Durbar Square, Kathmandu, 600x410 JPEG, 66K
Bodhnath, Swambayanath, and Pashupatinath both lie on the outskirts of modern Kathmandu. Closer in, south of today's main tourist area, Thamel, and just north of the faded sixties hangouts around Freak Street sits Kathmandu's Durbar Square. Durbar means palace in Nepali and all three towns in the Kathmandu metropolis have their own Durbar Squares by the old palaces. The old royal palace at Kathmandu's Durbar Square is just one of the many old palaces in the city no longer used for that purpose; I stayed in the Hotel Shanker, another such. Kathmandu's Durbar Square also includes a wide range of temples and, like much of Kathmandu, is actually quite a mish-mash of architecture, construction, and rebuilding from various eras.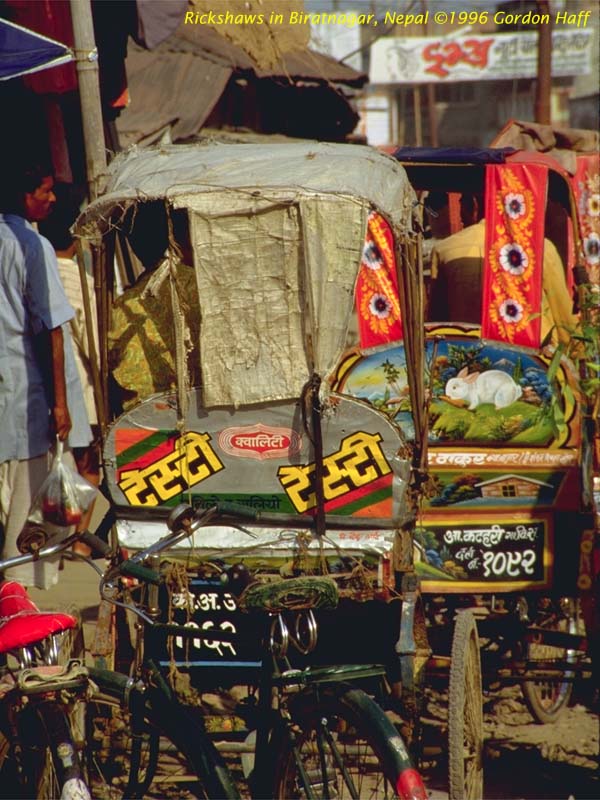 Rickshaws in Biratnagar, 800x600 JPEG, 99K
Quite different from Kathmandu is Nepal's second largest city, Biratnagar, a hot, dirty industrial town on the Terai plain near the border with India. Descriptions cannot really do Biratnagar justice and this colorful photograph of rickshaws does it even less.
Biratnagar was a transit point on my 1996 trek to the Kanchenjunga region, it being impossible to connect with flights between Kathmandu and the airstrip at Suketar in a single day. Unfortunately, it took more than a single day (the weather at Suketar making the term "daily flights" a phrase based more on hope than reality). My diary upon arrival in Biratnagar described it as "not one of the world's beauty spots. While the Swamitan Hotel we stayed in was perhaps not the worst hotel on the planet (or probably even in Biratnagar) it is unlikely to receive a Michelin ranking anytime soon." I went on to note "the frequent power outages, loose-hanging electrical wiring, semi-functional plumbing, and lack of screens in windows (and large insect population - hopefully none carrying malaria)."
The town's main street is mile after mile of markets. All very Indian looking with a sort of modern, run-down, concrete and brick construction. It contrasts with Kathmandu where even some newer buildings have artistic touches in details such as the grille work.
We did get out after only a day's delay. The second night was spent in a "new" hotel on the main street which was having a "grand opening." We gathered that it was just reopening after renovations with a new manager and that we were the first westerners to stay there. The manager said he wanted to "raise the level" of accommodations in Biratnagar. (The unkind might remark that it must be nice to have such a low target to aim for.)
There was great hustle and bustle as the Hotel Moon didn't seem quite ready for the "crowd" of 10 or so people. Now, don't get me wrong, the place was still pretty basic and functionality of things like flushing toilets was still very much a room by room proposition. Nevertheless, modern touches such as window screens and even (gasp) working air conditioning in a few rooms made the place almost luxurious (one's standards must adapt to location).
Best of all, through a combination of good luck, our trek leader Dorjee Sherpa taking the local manager of Royal Nepal Airlines out to dinner, and apparently a generous tip for the plane's pilot (!) we did finally get out on the second try the following day and were able to bid Biratnagar a not-so-fond farewell.
---